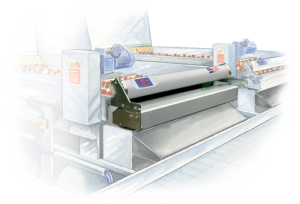 The processing in the industrial #agri-food sector for the processing of fruit and vegetable products has reached increasingly intense rhythms and this has highlighted the need for high efficiency and speed automatic systems, especially for the selection of the product in the pre-processing phase.
MATE srl has developed an optical system equipped with a series of optical sensors capable of detecting specific chromatic wavelengths. This system allows to discriminate the correct chromatic shade of the fruit, recognizing the product of the ideal ripeness and color and discarding the non-compliant product together with the residues.
The MATE optical system is applicable to a high speed conveyor belt, up to 1m / s. By scrolling the products on the belt and passing under the field of view of the sensors, which cover the entire width of the belt, the optical system drives a mechanical ejection apparatus, which eliminates non-compliant products or residues in a precise and efficient way.
All MATE systems have been conceived and designed to be customizable and configurable as needed, and the software can also be interfaced with existing systems or lines.
If you would like more information visit our website www.matesrl.eu or write to info@matesrl.eu
#agroalimentare #alimentare #industria #automazione  #agri-food #industrial #automation